How exactly will the 5G Network revamp the Mobile App Development Scenario?
The thirst for better and faster data and network speed can never be quenched in today's highly charged life scenarios. The thirst and expectations have only increased with every innovation of speed aka 1G, to 2G, to 3G and finally 4G. Like earlier mentioned expectations are now rife of the radical change that 5G will bring into our daily lives. Network gurus have predicted that by 2025, 5G network would be omnipresent in over 1.4 billion devices. That's nearly 15% population of device users the world over.
5G Mobile Network: A Snapshot
5G – fifth gen of wireless technology is currently operational in some countries and will soon progress to other countries. It is ready to immerse the world with its 10 to 100 time's speedier mobile connection. Its speed can be estimated by the fact that it could download one entire Game of Thrones season in seconds. This is due to the excellent usage of radio spectrum to enable accessing the internet by several devices instantaneously.
Businesses will be able to provide quicker and easily accessible data to their clientele more efficiently. 5G will bring forth enhanced network reliability, industrial IOT, immersive education, smarter & progressive communities and self-driven auto mobiles. Partner with Mtoag a website& iOS app development company or hire android app developer for creating 5G business apps.
What makes 5G distinct and superior than 4G?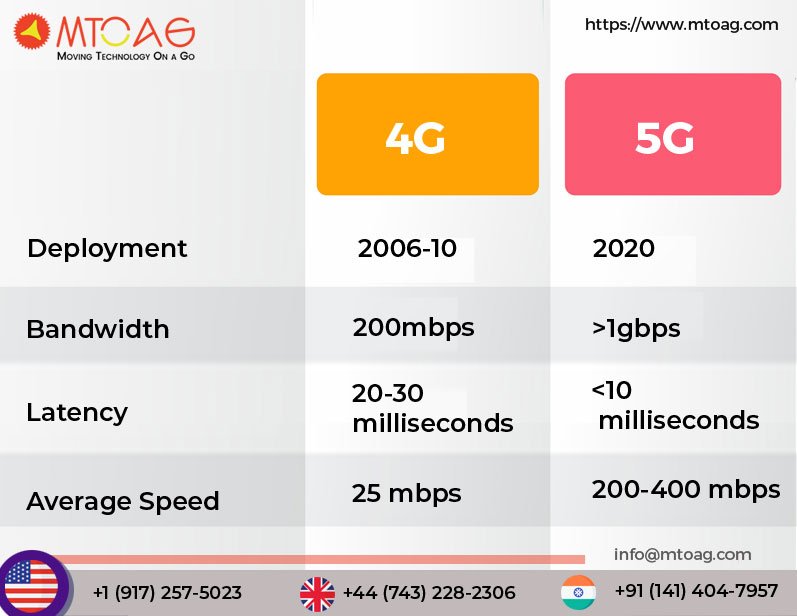 5G is comparatively faster to 4G, but there are more features that make 5G more distinct and superior to 4G.
1. Improved Connection Density
Connection density means providing certain size of data within a given time frame, 4G can connect 2000 devices per 0.38 sq. miles; in comparison 5G will connect one million devices per 0.38 sq. miles. 5G will also introduce a new device category – M1 and NB-IoT. This will favor machines running on batteries or on low power supply, thereby saving power and electricity. 5G will be able to support and spread its network in the rural sector as well.
2. Value-added Precision
5G networks can accurately comprehend required data and control employing power requirements. This device friendly technology utilizes less power when not being used and high power for streaming videos, events, etc. 5G uses frequencies range between 30 to 300 GHz as against 6 GHz by 4G. Data transfer is more accurate in this frequency and averts power wastage, data cluttering and weak internet accessibility.
3. Zero Latency
Latency means transmission time taken by sender to transfer a data packet to the receiver which is calculated in milliseconds. Live streaming of games or events, watching videos, clips, etc. are in vogue today. Users live streaming sports on 4G networks are few milliseconds behind the actual scene on the field.
With 5G this won't be the case as signals will be transferred in lesser time amounting to insignificant latency. It will enhance user experience in AR and VR industry segments. Shoppers will be able to virtually try on clothes, jewelry or envision home decor with a flick of their smart phones.
4. Superior Battery Life
5G enabled smart devices combined with IoT will offer lesser latency, below 1ms. Users will experience superior battery life with 5G supported tools and devices. Outdated devices would invariably drain battery life.
By when can we expect 5G to be accessible?
5G mobile network is currently available in some countries with limited abilities. It is expected to be globally accessible by this year end. 5G has been built with unique network architecture and is no way an updated version of 4G. 5G can transmit millions of megabytes data from your device to numerous globally connected systems in a flash.
Effect of 5G on Mobile App Development
Mobile apps will become trendier and provide smoother operational efficiency to users as well as mobile app developers. IOS and Android app developers will need to become technically savvy to develop mobile apps taking 5G technology in tandem. The influence of 5G network on mobile app development can be seen in the points below:
1. Enhanced Mobile Broadband (eMBB)
5G network will enable companies to provide low-priced enhanced mobile broadband services to users. This would mean faster HD video streaming and superior use of AR/VR applications.
2. User Interface Experience
iOS and Android app developers will have better clarity to upscale user interfaces for client business apps. 5G would be a game changer and play a pivotal role in mobile app development.
3. File Transfers Get Faster
Users will enjoy faster data transfer, banking transactions, with 5G which uses electromagnetic spectrum bits in comparison to radio waves. Mobile app developers would need to create new apps or upgrade their existing apps to harness this 5G technology.
4. Usage of 3D Models
5G mobile apps will revolutionize the education and construction sector significantly with usage of 3D models. With the help of modern 3D printers, first class 3D models can be created for imparting innovative studies to kids.
5. Boost for Navigational Mobile Apps
Continual, high quality communications 5G network will benefit tourism & hospitality sector and location-based services with navigational mobile apps.
6. Multiple App Versions
Users using 3G or 4G networks might not switch immediately to the 5G network. Mobile app developers will need to create multiple app versions for separate networks.
7. Nominal Reliance on Hardware
5G networks will be connected with data centers for processing power to mobile devices. This will help in millions of MB data transfer seamlessly and reduce the dependency on mobile devices hardware.
8. Security Concerns
App developers should take care of security and privacy concerns as 5G provides faster connection between networks and devices.
Methods for preparing your mobile app development for the 5G technology
Be the first to jump onto the 5G technology bandwagon for your mobile app development. People are waiting for 5G to roll out before they latch on to it. Be the first to harness this opportunity and prove your prowess as a mobile app developer by using these listed ways.
1. Dependable Wireless Interactivity
As 5G rolls out, mobile app users will forget the limitations of 3G/4G wireless technologies data packages or Wi-Fi connectivity. Users would be enabled with substantial data packages via the 5G network itself. Mobile app developers and designers will need to develop and design apps bearing in mind downloading time of more seconds.
2. 5G Connectivity for all smart devices
5G will enable connectivity for all smart devices such as cars, air conditioners, lights, refrigerators, etc. via Internet of Things(IoT).
3. Artificial Intelligence and Machine Learning
Post 5G advent, users will be able to connect remotely with AI and ML enabled devices. Such as driverless cars, electronic gadgets and access huge amount of data by utilizing processing power.
4. Virtual Reality Streaming Experiences
With 5G, mobile app developers will find it easier to help businesses to provide Virtual Reality streaming experiences to audiences.
5. Cloud Tech Support
Mobile app designers will be able to use SAAS (software-as-a-service) as 5G will make cloud technology more widespread on mobiles.
Summing it up
Fifth gen cellular technology will provide enhanced functionality and accessibility of smart devices. Faster and better internet connectivity will be far more reliable and adept with 5G. Mtoag is a multi-faceted website development company and iOS app development company. You can even hire android app developers for getting your 5G mobile apps developed. Get in touch today!