Grocery
App Development

Company in

India
Get developed your grossary app by the best developers
Are you are looking for a grocery app development company that helps you to convert your grocery store into a grocery delivery app and expand your online business by connecting with users on a broader spectrum? If yes, then you have come at the right place. To create apps that provide you with order management, better inventory, enhance customer loyalty, high experience, provide different payment methods, and tracks orders, then Mtoag Technologies is a one-stop destination for you. We are the best because we provide you with:
One-Time Cost

Save Time & Money
Own Your Code

Free Technical Support
Trusted By

650+ Happy Clients,

Including Fortune Companies


The Advantages Of Grocery Application Development
Mobile apps have completely revolutionized the retail industry. It will not be wrong to say that most people are switching on to the use of these apps to cater to their everyday needs. There has been a tremendous rise in the On Demand grocery app development sector due to people's significant switch from physically visiting grocery stores to grocery apps. This transition is happening globally with the vision of expanding their business domains and delivering groceries to people in the comfort of their houses. Some of the many advantages of grocery development apps are :
Better inventory and order management
These apps come with an admin panel that can be accessed from your mobile phones and devices. With this access, the app owner can manage orders, inventories, deliveries, etc., from anywhere, anytime.
User-friendly
The primary purpose of these apps is to create a platform where the user can find ease and convenience. With an app, you are generating user experience and satisfaction like never before. Your customers no longer have to wait in queues for billing, search in the long stacks for the products they are looking for, waste their time commuting, etc. They need to search for what they are looking for, order, pay, and get.
A win-all situation for the consumer
The consumer is always the king. When you are providing the consumers with a platform where they can find multiple offers, promotions, sales, and other benefits, they are sure to come back. Also, with these apps, the owners get a chance to analyze and study consumer behavior, their interest, likes, dislikes, etc. At the end of the day, they can make the changes in their app and sell techniques accordingly.
Loyalty programs
Customer loyalty is crucial in every sector and industry. This is how you get an opportunity to retain your old customers and make new ones. A grocery mobile delivery app development allows you to improve loyalty through percolated and highly intuitive user experience. By making loyalty bonuses, rewards points, offers, etc., this would be a part of your app that will help you to attract customers.
Restricted staff
With a physical grocery store, you need to hire staff at different levels to take care of the various needs of the store, which can be both challenging and an expensive affair. However, with an online grocery app development, you create a scalable, feature-rich, and reliable grocery store, where effective functioning can be done with a limited number of people. This is an effective way to boost your sales without burning hole in your pockets.
Order Tracking
Order tracking is one of the most crucial features of a grocery app. Only through this feature does one get the chance to keep track of their orders, deliveries, etc. This management enables the smooth functioning of the app and proper coordination among the various levels.
We

Keep

at The

Forefront

of Everything

We Do!
As a leading provider of mobile application development services, we work to enhance our technological prowess. Using the most cutting-edge technologies available, such as UI/UX, intelligent consultation, chatbots, Artificial Intelligence, and IoT , we provide human-centric mobile application solutions. Examine our fundamental technology with services for mobile development and have vast expertise.
How does our On-demand
grocery mobile app panel work?
This feature allows the users to track the status of their purchase products. Monitor the real-time location and the approximate delivery time using the grocery apps.
Once your online cart is filled with your requirement items, it is time to order the products. The users can choose from existing options such as the day and time of delivery, contactless delivery, etc.
The user is provided with several payment options such as credit cards, debit cards, UPIS, pay on delivery, etc. the user can opt for an option that is most suitable for them.
Users need to begin with the registration process. They have to fill in their details such as their name, address, billing information, contact no, etc. An alternate option to sign in with their social media accounts is also available.
The users can find what they are looking for by searching for the respective items in the search panel.
The users are provided with several delivery options. They can pick a time slot that will be most suitable for them.
Geolocationis one of the most essential parts of a grocery app. It enables the delivery guy to have the exact locations of the delivery places, making delivering easy, flawless, and on time.
The delivery boy needs to check the orders being placed constantly. Through this feature, they can check which orders are allocated for their locations, how many are delivered, pending, etc.
Through this feature, the delivery boy can keep an effective check on the delivery history, including the number of deliveries done, locations, orders, etc.
The driver needs to create his profile and fill in the essential details of his full name and contact no—profile picture, experience, etc.
With the push notification, the customer is notified, of the time of delivery, when the order is put for delivery, any delays, or other arrangements.
E-Sign is a must to ensure the authenticity of the user.
The generation of reports is a crucial step to ensure the improvement and maintenance of an existing app. It allows you to analyzeitem-wise sales, check profitability and make business decisions accordingly.
The admin needs to create an account and fill in essential information such as the tax information, warehouse capacity, payment channels, and user login credentials.
With this feature tracking the real-time location of the charges, maintaining checks on the status of delivery, chasing returns, and managing inventory become an organized process.
With this option,keep a check on the status of the costs, optimize your shipping prices, enter banking information, manage card payments, cash payments, etc.
The admin can create a complete online catalog with details, including the product name, images, videos, price, inventory, description, etc.
Making the processing of orders an easy task; admin can print labels, shipping, and packing products for delivery flawless.
Grocery Delivery App
Subzi Mandi, a 20 year old New York based grocery retail chain reached out to us during the lockdown to digitize their business.
View Case Study
Dispatch your online
grocery store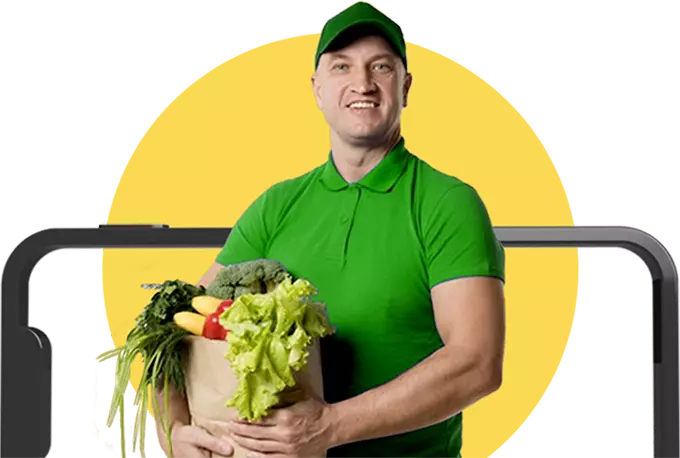 Get personalized
We remember what customers are looking for so that from the next time when they shop we show them their like preferences.
Statistics
We represent statistics of all the data including total customers, total products, variety of stores, total transactions occurring, etc.
Wallet
Shop cashless- customer can simply shop and pay using wallet through grocery mobile app.
User-interface
Forget about visiting to store & remaining in a queue. We bring, simplifies grocery online shopping experience for everyone.
Ready-To-Go
Solutions by MTOAG
Deliver faster and better services with unique grocery delivery app clone features to your users
Bigbasket Clone

Swiggy Clone
Key Features
login
Navigation
All Categories
Nearby Restaurant
Offers/Coupon
Push Notification
Selection of Menu
Why choose Mtoag as your grocery app development company In India?
Mtoag Technologies is the most reliable grocery app development company in India. As a company that has been working dedicatedly in this field since 2011, we have developed thousands of apps in several sectors and industries. We consist of a team of dedicated professionals who work hard to create apps that are sure to be a turning point in the firm foundation of your growth and success. Our mission is to build grocery apps that are scalable, optimized, and functional at multiple levels. We are a one-stop destination as a grocery app development company because :
Security
At Mtoag Technologies we develop apps that are not just robust and scalable but also secure. We maintain a strict level of security at every level and ensure that all vital information on the app remains highly confidential.
SEO -friendly design
All grocery app development at Mtoag Technologies is done keeping in mind the best SEO practices. Our objective is to create a platform where you can rank well in search engines and app stores.
Multi-language
We develop apps that can be tailored in multiple languages. Our objective is always to curate a platform where connection can be established on a significant level without the barriers of geographies and languages.
PCI compliant
We develop apps that are PCI compliant and ensure that there are no legal issues regarding the purchase and selling of products through apps.
Prebuilt scripts
Our ready-to-use apps consist of pre-built multi-store grocery shopping, delivery, store management solutions that take care of everything from development to deployment.
App monitoring & chatbots
Our apps sync with the best in technology. Chatbots and app monitoring are an essential part of our apps that ensure user interface and optimizations.
Customizations
At Mtoag Technologies, we develop multi-store grocery delivery software that can be customized using several delivery app ideas. We provide you with customized grocery mobile apps that are beneficial for both the user and admin.
Clean and scalable designs
At Mtoag Technologies, we aim to curate apps that sync with the best in advancements and technologies, handle effective sectors that are scalable and customized to provide you with suitable grocery software to make you live successfully in today's market.
Grocery Infographic
Distorting the style of purchasing groceries online and delivering the groceries at the shoppers doorstep, Mtoag develops a constructive application developing the pinnacle quality where customer can easily explore.
Technology stack

That we use
Our development teams only use modern and scalable technologies to deliver a mobile or web application the way you mean it.
Looking for

Other Services?
Explore our other related services to enhance the performance of your digital product.
FAQ
There is no definite answer to the question. The cost of an app is determined by several factors. These factors are the features and components of app development, features, location, fisntionalitis, etc. to evaluate an approximate cost of your grocery app, connect with us at Mtoag Technologies today.
Data confidentiality should always be your main concern. Check with your development company if they sign an NDA with their clients and ensure the security of their idea and app.
Easy registrations, one-touch integration, on-demand solutions, multiple services at a single click, user optimization, and experience are some of the most essential features of a grocery app.
Yes, customizations and relevant changes with design, features, etc. can be made as p the needs and requirements of the customers.
The time taken to build an on-demand grocery app depends on the number of changes desired, features added, etc. to evaluate the total time that will be taken for the curation of your grocery app, connect with us at Mtoag Technologies today.