WhatsApp Messenger App
WhatsApp Chat App Clone Development
Mtoag is in the business of mobile chat app clone development having an appreciable presence in US, UK, Canada and India. We engineer native to cross-platform development to suit your mobile app requirements. We use Open Source technologies to deliver state-of-the-art WhatsApp chat app clone script features to suit any platform whether it is iOS, Android, Windows or Web applications.
One-Time Cost

Save Time & Money
Own Your Code

Free Technical Support
Trusted By

650+ Happy Clients,

Including Fortune Companies


A multifarious WhatsApp Chat application for
portraying a supreme messaging experience
Chat & Messaging
Interactive Chat & Messaging features to promote user experience to a new level of chatting involvement
Moderated Control & Data
Exercise moderation and control while exploring chat data and safeguard brand integrity
Customer Support
Live human chat support & ticketing support interface
Security & Compliance
Cutting-edge encryption and security criteria
We

Keep

at The

Forefront

of Everything

We Do!
As a leading provider of mobile application development services, we work to enhance our technological prowess. Using the most cutting-edge technologies available, such as UI/UX, intelligent consultation, chatbots, Artificial Intelligence, and IoT , we provide human-centric mobile application solutions. Examine our fundamental technology with services for mobile development and have vast expertise.
WhatsApp Chat Clone App -
Prominent Features
01
Video Call
This video call clone app feature helps you to remain connected with your friends, colleagues and dear ones from whichever location you may be and any time. User can seamlessly choose the video call option right in the midst of an ongoing conversation.
02
Robust & Secure
The WhatsApp chat clone app has been developed using the latest cutting-edge technologies and essential security parameters to keep the chat app environment robust and secure for the users peace of mind and convenience.
03
Cross Platform App
The WhatsApp clone app has been created using cross-platform development methodology to seamlessly cater to both iOS and Android users and save time and money for the business owner.
04
User Friendly
Keeping a view to success, the clone app has been created with easy to use features that even kids or a first time user may be comfortable with.
05
Wi-fi/Mobile Data
The chat clone app user and choose between using Wi-Fi or mobile data to suit the availability for chatting.
06
Invite Users
The user can send an invitation to contacts via the invite feature given in the clone app.
Want to Hire

Website developers

for your Project ?
Mark as Favorite
You can mark a contact, message or video with a Star sign feature as a favourite
Mark as Unread
If you do not want the sender to know that you have read his/her message, with this feature you can uncheck
Last seen time feature
You can see when the user last logged in and offline or online status if currently
Video Sharing
Video files can be uploaded and shared with élan irrespective of small or large file size.
Forward, Delete, Copy Message
These simple but truly important features of forward, delete & copy message options figure prominently in the chat clone app
Location Sharing
Share your location with your contacts through Google's advanced location sharing feature given in the chat clone app
Voice Message
No time to type out a lengthy message, tap on the microphone icon given on the chat clone app and instantly record and send your voice message
Archive Chats
You can archive your chats through the archive chat feature in the chat clone app
The Advantages That We Offer
Chat History
The chat history feature of the WhatsApp clone app automatically saves and synchronizes your messages and profile image on the history screen visible to the user. Only the most recent messages are displayed on the chat messaging screen wherein the current read status is displayed to the user. User can view their previously chat history if required by them.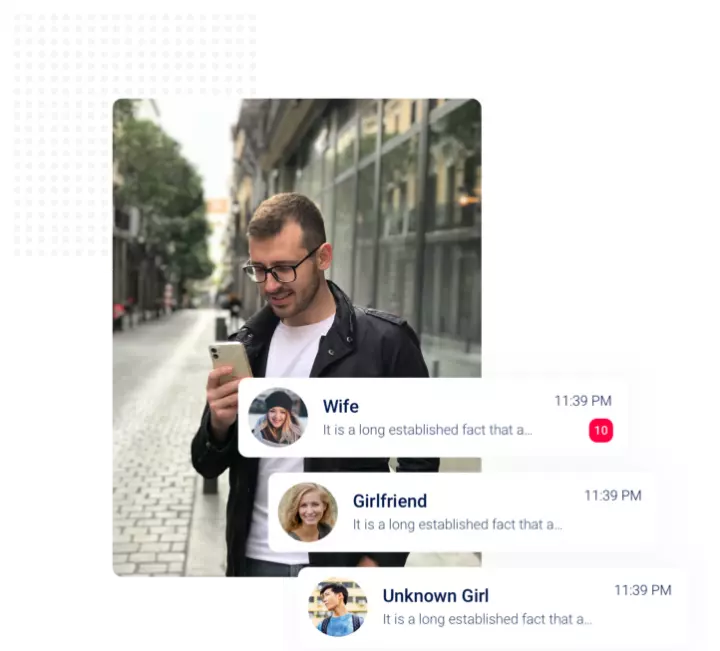 Synchronization of phone Contacts
Once the user installs and registers on the clone chat app through his smart phone, his/her phone contacts are automatically synchronized into the app. The user and view and connect with his contacts instantly without the hassle of again adding contacts one by one to his phone contact list.
Audio and Video call Feature
Through this user friendly feature of the chat clone app, users can conveniently communicate with their friends, relatives, colleagues, etc. through voice calls or video calls. They can also voice and record messages to send to contacts through this app feature.
Data Sharing
Users can use this feature to share their images, files, documents, sound and video clips amongst their contacts list.
Admin Panel
The Admin Panel empowers the WhatsApp Chat clone app admin to maintain supreme command and control on the chat app. The total quantum of messages exchanged amongst viewers on the chat platform can be monitored by the admin. The admin can also customize specific requirements if required by him.
Technology stack

That we use
Our development teams only use modern and scalable technologies to deliver a mobile or web application the way you mean it.
Looking for

Other Services?
Explore our other related services to enhance the performance of your digital product.